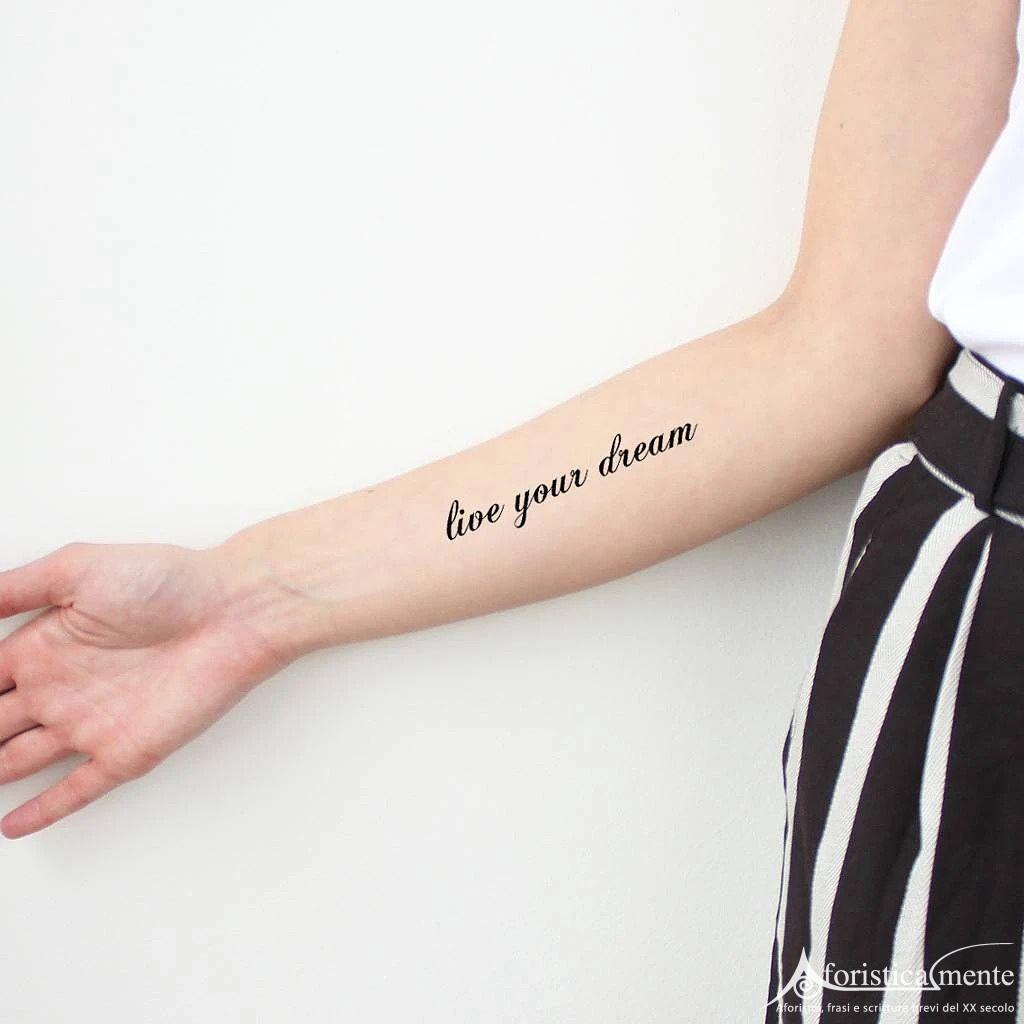 A volte bastano poche parole per esprimere un pensiero, un sentimento o una stato d'animo. La lingua inglese, con la sua grammatica e il suo lessico, si presta bene a esprimere in modo breve e sintetico idee ed emozioni complesse. Molte delle frasi che riporto qui di seguito possono essere utilizzate come ispirazione per i tatuaggi o per gli stati di WhatsApp o come annotazioni da mettere sul proprio diario personale.
Presento qui di seguito una raccolta di 150 frasi in inglese brevi e corte (con traduzione in lingua italiana) per tatuaggi e stati di WhatsApp. Tra i temi correlati si veda Le 110 frasi in inglese più belle di sempre (con traduzione), Le 100 frasi più belle sulla vita, Le 30 frasi e citazioni più belle di sempre e 400 frasi per i tatuaggi.
**
150 frasi in inglese brevi e corte (con traduzione) per tatuaggi e stati di WhatsApp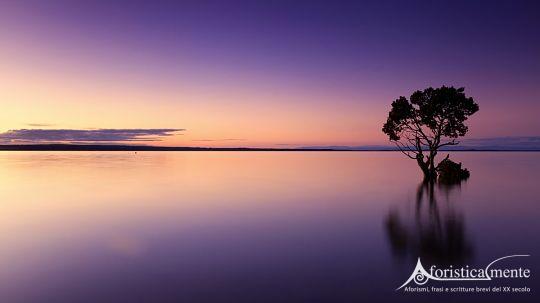 You are your only limit.
Tu sei il tuo unico limite.
Joy is not in things; it is in us.
La gioia non è nelle cose, è in noi.
Be happy. Be bright. Be you.
Sii felice. Sii luminoso. Sii te stesso.
Be a voice. Not an echo.
Sii una voce. Non un'eco.
Fall down seven times, stand up eight.
Cadi sette volte, rialzati otto.
Live simple. Love big.
Vivi semplicemente. Ama grandemente.
Make the rest of your life the best of your life.
Fai del resto della tua vita il meglio della tua vita.
Don't wait. Life goes faster than you think.
Non aspettare. La vita scorre più veloce di quanto pensi.
Happiness is a choice.
La felicità è una scelta.
Change your thoughts and you change your world.
Cambia i tuoi pensieri e cambierai il tuo mondo.
Learn from yesterday. Live for today. Hope for tomorrow.
Impara da ieri. Vivi per oggi. Spera per domani.
Don't dream your life, live your dream.
Non sognare la tua vita, vivi il tuo sogno.
You are your choices.
Tu sei ciò che scegli.
I am not afraid I was born to do this.
Non ho paura, sono nato per fare questo.
Stars can't shine without darkness.
Le stelle non possono risplendere senza oscurità.
Be a warrior not a worrier.
Sii un guerriero, non uno che si preoccupa
Dream without fear. Love without limits.
Sogna senza paura. Ama senza limiti.
Let's just be who you really are.
Sii solo ciò che sei veramente.
Explore Dream Discover.
Esplora, Sogna, Scopri.
Too wild to live, too rare to die.
Troppo selvaggio per vivere, troppo raro per morire.
Nothing is impossibile.
Niente è impossibile.
A problem is a chance for you to do your best.
Un problema è solo una possibilità per fare meglio.
Trust your soul.
Credi nella tua anima.
Love the life you live, and live the life you love.
Ama la vita che vivi, e vivi la vita che ami.
Find your fire.
Trova il tuo fuoco.
Choose to shine.
Scegli di risplendere.
My life is my art, My art is my life.
La mia vita è la mia arte, la mia arte è la mia vita.
Never forget who you are.
Non dimenticare mai chi sei.
Make yourself a priority.
Fai di te stesso una priorità.
Don't just exist, live.
Non esistere, vivi.
Take every chanche. Drop every fear.
Scegli ogni possibilità. Molla ogni paura.
If not now when.
Se non ora quando.
Think Less. Feel More.
Pensa meno. Senti di più.
Expect nothing and appreciate everything.
Non aspettarti niente e apprezza ogni cosa.
Life's too short for regrets.
La vita è troppo breve per i rimpianti.
Laugh as much as you breathe and love as long as you live.
Ridi tanto quanto respiri e ama finché sei vivo
Let your dreams take flight.
Lascia che i tuoi sogni prendano il volo.
Be secretly incredible.
Sii segretamente incredibile.
Create beauty everyday.
Crea bellezza ogni giorno.
Don't be afraid to fail. Be afraid not to try.
Non preoccuparti di fallire. Preoccupati di non averci provato.
Dream big, be unrealistic.
Sogna in grande, non essere realista.
Have enough courage to start and enough heart to finish.
Abbi abbastanza coraggio per iniziare e abbastanza cuore per finire.
Impossible is just an opinion.
L'impossibile è solo un'opinione.
It always seems impossible until it's done.
Sembra sempre impossibile, finché non viene fatto.
Yesterday you said tomorrow. Just do it.
Ieri hai detto domani. Fallo adesso.
We are all fools in love.
Siamo tutti pazzi d'amore.
Love is the whole and more than all.
L'amore è tutto e ancor di più.
We are such stuff as dreams are made on.
Siamo fatti della stessa sostanza dei sogni.
We are stardust.
Siamo polvere di stelle.
Try to be a rainbow in someone's cloud.
Sii l'arcobaleno nella nuvola di qualcun altro.
Stronger than yesterday.
Più forte di ieri.
Living well is the best revenge.
Vivere bene è la migliore vendetta.
Make yourself proud.
Renditi orgoglioso.
Dream without fear. Love without limits.
Sogna senza paura. Ama senza limiti.
The time is always right to do what is right.
E' sempre il momento giusto per fare la cosa giusta.
For every minute you are angry you lose sixty seconds of happiness.
Per ogni minuto che sei triste tu perdi 60 secondi di felicità.
Never too late.
Non è mai troppo tardi.
Still I rise.
Ancora mi alzerò.
Sometimes you win, sometimes you learn.
A volte si vince, a volte si impara.
Collect moments not things.
Raccogli momenti e non cose.
Life is a journey not a destination.
La vita è un viaggio, non una destinazione.
Normal is boring.
Ciò che è normale è noioso.
Respect the unexpetcted.
Rispetta l'inaspettato.
Dance lightly with life.
Danza luminosamente con la vita.
Be so good they can't ignore you.
Sii così bravo che non potranno più ignorarti.
Everything you want is on the other side of fear.
Tutto ciò che vuoi è dall'altra parte della paura.
Sometimes when you fall you fly.
A volte quando cadi cominci a volare.
Your best teacher is your last mistake.
Il tuo miglior insegnante è l'ultimo errore.
Resolve to evolve.
Risolvi per evolvere.
Aspire to inspire.
Aspira a inspirare.
Know your rights.
Conosci i tuoi diritti.
Silence is the best reply to fool.
Il silenzio è la migliore risposta a un pazzo.
Live without regrets.
Vivi senza rimpianti.
Worry less, smile more.
Preoccupati meno, sorridi di più.
Be happy for this moment. This moment is your life.
Sii felice in questo momento. Questo momento è la tua vita.
Where there is love there is life.
Dove c'è amore c'è vita.
Dream as if you'll live forever.
Sogna come se dovessi vivere per sempre.
Follow your dream.
Segui i tuoi sogni.
Live. Laugh. Love.
Vivi. Sorridi. Ama.
Love For All. Hatred For None.
Amore per tutti. Odio per nessuno.
Whatever you decide to do, make sure it makes you happy.
Qualunque cosa tu decida di fare assicurati che ti renda felice.
Never stop dreaming.
Non smettere mai di sognare.
Broken crayons still color.
Le matite rotte colorano ancora.
Take a breath and be strong.
Fai un respiro e sii forte.
Perfectly imperfect.
Perfettamente imperfetto.
All good things are wild and free.
Tutte le cose belle sono selvagge e libere.
If you never try, you'll never know.
Se non provi mai, non lo saprai mai.
When in doubt, travel
Nel dubbio, viaggia.
Make it happen.
Fa in modo che succeda.
If you can't find a way, create one!
Se non puoi trovare la via, creala!
Be fearless.
Sii senza paura.
I am enough.
Io sono abbastanza.
Prove them wrong.
Dimostra loro che si sbagliano.
Relax, reflect, recharge.
Rilassati, rifletti, ricaticati.
Open your mind.
Apri la tua mente.
Let life surprise you.
Lascia che la vita ti sorprenda.
Be extraordinary.
Sii straordinario.
Nothing worth having comes easy.
Niente che valga la pena di avere è facile.
Don't cry because it's over, smile because it happened.
Non piangere perché è finita, sorridi perché è accaduto.
That which does not kill me makes me stronger.
Ciò che non mi uccide mi fortifica.
Without music life would be an error.
Senza musica, la vita sarebbe un errore.
If you can dream it, you can do it.
Se puoi sognarlo puoi farlo.
The best is yet to come.
Il meglio deve ancora venire.
Don't be afraid to dream big.
Non aver paura di sognare in grande.
Do it with passion or not at all.
Fallo con passione o non farlo affatto.
Doubt kills more dreams than failure ever will.
Il dubbio uccide più sogni di quanti ne ucciderà mai il fallimento.
Reality is wrong, dreams are for real.
La realtà è illusoria, solo i sogni sono reali.
Cambia il gioco, non lasciare che il gioco ti cambi.
Change the game, don't let the game change you.
You get what you give.
Tu ricevi quello che dai.
Happiness is real only when shared.
La felicità è reale solo quand'è condivisa.
All you need is love.
Tutto ciò di cui hai bisogno è l'amore.
Heart means everything.
Il cuore significa tutto.
Difficult roads often lead to beautiful destinations.
Le strade difficili portano spesso a destinazioni bellissime.
Make life epic.
Rendi la vita epica.
Never Give Up.
Non mollare mai.
Think like a proton. Always positive.
Pensa come un protone. Sempre positivo.
Life is short, smile while you still have teeth.
La vita è breve, sorridi finché hai tutti i denti.
Fate loves the fearless.
Il destino ama gli intrepidi.
Follow your own star.
Segui la tua stella personale.
Stop whishing. Start doing.
Smetti di desiderare. Comincia a fare.
Imagine your dream, create your happiness and live your life.
Immagina i tuoi sogni, crea la tua felicità e vivi la tua vita.
A winner is a dreamer who never gives up.
Un vincitore è semplicemente un sognatore che non ha mai mollato.
With pain comes strength.
Con il dolore arriva la forza.
Breathe. It's just a bad day, not a bad life.
Respira. E' solo un brutto giorno, non una brutta vita.
We were born to be real, not to be perfect.
Siamo nati per essere reali, non per essere perfetti.
When it rains look for rainbows. When it's dark look for stars.
Quando piove cerca l'arcobaleno. Quando è buio cerca le stelle.
Trust Yourself
Credi in te stesso.
If you want to go fast, go alone. If you want to go far, go together.
Se vuoi andare veloce, vai da solo. Se vuoi andare lontano, vai insieme.
Great things never came from comfort zones.
Le grandi cose non arrivano mai dalle cose facili.
I don't know where I am going, but I am on my way.
Non so dove sto andando, ma sono sulla strada che ho scelto io.
Embrace elegance.
Abbraccia l'eleganza.
Mistakes are proof that you are trying.
Gli errori sono la prova che ci stai provando.
Dream big and dare to fail.
Sogna in grande e osa fallire.
Conquer from within.
Conquista dall'interno.
Whatever you do, do it well
Qualunque cosa tu faccia, falla bene.
Everything you can imagine is real.
Ogni cosa che puoi immaginare è reale.
Enjoy the little things.
Goditi le piccole cose.
Old ways won't open news doors.
I vecchi metodi non aprono le porte nuove.
Think different.
Pensa diversamente.
Every moment matters.
Ogni momento conta.
Who Dares Wins.
Chi osa vince.
Breathe deeply.
Respira profondamente.
Courage Love Hope.
Coraggio, amore, speranza.
Be kind always
Sii gentile sempre.
Find a way or make one.
Trova un modo o creane uno.
Freedom is a state of mind.
La libertà è uno stato d'animo.
Die with memories, not dreams.
Muori con ricordi, non con sogni.
Live each day as if it were your last.
Vivi ogni giorno come se fosse l'ultimo.
If you don't live for something, You'll die for nothing.
Se non vivi per qualcosa, morirai per niente.
It is not the length of life, but the depth.
Non è la durata della vita, ma la profondità.
I will fear no evil for you are with me.
Non avrò paura di nessun dolore finché tu sei con me.
And in the end, the love you take is equal to the love you make.
Alla fine, l'amore che ricevi è uguale all'amore che dai.
The meaning of life is to give life meaning.
Il significato della vita è dare vita a un significato.
Enjoy life! This is not a rehearsal.
Goditi la vita! Questa non è una prova generale.