Cerchi una frase per i tuoi tatuaggi?
Il tatuaggio è qualcosa di molto personale e lo è a maggior ragione quando si tratta di scegliere una frase da tatuare.  Come scegliere la frase? Di solito leggendo un libro o ascoltando una canzone o guardando un film. Tra le tante frasi che ogni giorno leggiamo o sentiamo, ci sono le cosiddette "frasi intoccabili e sacre", quelle che risuonano e ci illuminano. Quando uno sente che la frase che ha letto o sentito è "intoccabile", questa è la frase che potrebbe scegliere per il suo tatuaggio. Se qualcuno vuole sapere quali sono le frasi e scritte più tatuate (anche se non esiste una statistica), qui di seguito presento una grande raccolta, in varie lingue, di oltre 100 frasi per i tatuaggi + 300 frasi e scritte tatuate sulla pelle da parte di vip e celebrità del mondo dello spettacolo e dello sport, per un totale di 400 frasi. La raccolta è divisa in tre sezioni:
1 – Le 100 frasi più belle per i tatuaggi
2 – Frasi per tatuaggi di celebrità femminili
3 – Frasi per tatuaggi di celebrità maschili
Tra i temi correlati si veda
100 frasi d'amore per tatuaggi
200 frasi motivazionali per tatuaggi
100 frasi sulla vita per tatuaggi
40 frasi per tatuaggi sulla famiglia
100 Frasi in latino per tatuaggi 
40 Frasi in sanscrito per tatuaggi
150 frasi in inglese brevi e corte (con traduzione) per tatuaggi e stati di WhatsApp,
Le 30 frasi e citazioni più belle di sempre
**
Le 100 frasi più belle per i tatuaggi
Quello che il bruco chiama fine del mondo, il resto del mondo chiama farfalla (frase di Lao Tzu)
Nothing great was ever achieved without enthusiasm. ("Senza entusiasmo, non si è mai compiuto niente di grande" frase di Ralph Waldo Emerson)
Yhe greatest thing you'll ever learn is just to love and be loved ("La cosa più grande che tu possa imparare è amare e essere amato")
Dream as if you'll live forever ("Sogna come se dovessi vivere per sempre")
My life is my art, My art is my life ("La mia vita è la mia arte, la mia arte è la mia vita")
All mankind love a lover ("Tutti amano chi ama", frase di Ralph Waldo Emerson)
Don't dream your life, live your dream ("Non sognare la tua vita, vivi il tuo sogno")
A volte un vincitore è semplicemente un sognatore che non ha mai mollato
Chi segue gli altri non arriva mai primo.
Nel bel mezzo dell'inverno, ho infine imparato che vi era in me un'invincibile estate.
In the depth of winter, I finally learned that within me there lay an invincible summer.
Au milieu de l'hiver, j'apprenais enfin qu'il y avait en moi un été invincible
(Frase di Albert Camus)
Ever tried. Ever failed. No matter. Try again. Fail again. Fail better ("Ho sempre tentato. Ho sempre fallito. Non discutere. Fallisci ancora. Fallisci meglio", frase di Samuel Beckett)
Everything has beauty, but not everyone sees it ("Ogni cosa ha la sua bellezza ma non tutti la vedono")
Joy is not in things; it is in us ("La gioia non è nelle cose, è in noi")
But without the dark we'd never see the stars ("Se non ci fosse il buio non potremo vedere le stelle")
That Love is all there is Is all we know of Love ("Che l'Amore è tutto è tutto ciò che sappiamo dell'Amore", frase di Emily Dickinson)
Fall down seven times, stand up eight ("Cadi sette volte, rialzati otto")
Never forget who you are ("Non dimenticare mai chi sei")
Not all those who wander are lost ("Un vagabondo non sempre si è smarrito", frase di J.R.Tolkien)
Si vede bene solo con il cuore. L'essenziale è invisibile agli occhi (frase di Antoine de Saint-Exupéry)
I am not afraid I was born to do this ("Non ho paura, sono nato per fare questo")
But I have promises to keep, And miles to go before I sleep ("Ma ho promesse da mantenere, e miglia da fare prima di dormire", versi di una poesia di Robert Frost)
We are such stuff as dreams are made on (Siamo fatti della stessa sostanza dei sogni, William Shakespeare)
To thine own self be true ("Sii sincero con te stesso", William Shakespeare, Amleto)
Everything was beautiful and nothing hurt ("Tutto era bello e niente feriva", Kurt Vonnegut)
What matters most is how well you walk through the fire ("Quel che più importa, è quanto bene cammini attraverso il fuoco", Charles Bukowski)
There's a bluebird in my heart that wants to get out ("Nel mio cuore c'è un uccello azzurro che vuole uscire", Charles Bukowski)
I took a deep breath and listened to the old brag of my heart. I am, I am, I am. ("Feci un profondo respiro e ascoltai il mio cuore ripetere l'antica vanteria. Io sono. Io sono. Io sono", versi di Sylvia Plath)
For you a thousand times over! ("Per te mille volte", Khaled Hosseini)
I do not wish any reward but to know I have done the right thing ("Non voglio ricompense, mi basta sapere che ho fattola cosa giusta", Le avventure di Huckleberry Finn di Mark Twain)
We're all mad here ("Siamo tutti matti qui", Alice nel paese delle meraviglie)
We don't see things as they are, we see them as we are ("Noi non vediamo le cose come sono, le vediamo come siamo", Anaïs Nin)
I carry your heart with me I carry it in my heart ("Il tuo cuore lo porto con me, lo porto nel mio cuore", versi E.E. Cummings)
We loved with a love that was more than love ("Abbiamo amato con un amore che è stato più che amore", Annabel Lee di Edgar Allan Poe)
I love you as certain dark things are to be loved, in secret, between the shadow and the soul ("T'amo come si amano certe cose oscure, segretamente, entro l'ombra e l'anima", versi di Pablo Neruda)
Who, being loved, is poor? ("Chi, essendo amato, è povero?" Oscar Wilde)
You are every reason every hope and every dream I've ever had ("Tu sei ogni ragione, ogni speranza e ogni sogno che abbia mai avuto", Nicholas Sparks, Notebook)
Whatever our souls are made of, his and mine are the same ("Di qualunque cosa le nostre anime siano fatte, la mia e la tua sono fatte della stessa cosa", Emily Brontë)
Let it go Let them go Let all go So comes love ("Lascia andare, lasciali andare, lascia andare tutto. Così viene l'amore", versi di E.E. Cummings)
We are all fools in love ("Siamo tutti pazzi d'amore", Jane Austen, Orgoglio e pregiudizio)
Love is the whole and more than all ("L'amore è tutto e ancor di più", E.E. Cummings)
Still I rise – Ancora mi alzerò (questo verso viene da una poesia di Maya Angelou che trovi qui di seguito)
You may write me down in history
With your bitter, twisted lies,
You may trod me in the very dirt
But still, like dust, I'll rise.
–
Puoi svalutarmi nella storia
Con le tue amare, contorte bugie;
Puoi schiacciarmi a fondo nel fango
ma io, come polvere, ancora mi alzerò.
(Maya Angelou)
Learn from yesterday Live for today Hope for tomorrow ("Impara da ieri, vivi oggi, spera per domani")
Live each day as if it were your last ("Vivi ogni giorno come se fosse l'ultimo")
Live Laugh Love (in italiano "Vivi Sorridi Ama")
When the words fail the music speak ("Quando le parole falliscono la musica parla" frase di Hans Christian Andersen)
Love is all you need ("L'amore è tutto ciò di cui hai bisogno")
Love me for who I am ("Amami per ciò che sono")
We accept the love we think we deserve ("Accettiamo l'amore che pensiamo di meritare")
Too wild to live, too rare to die ("Troppo selvaggia per vivere, troppo rara per morire")
Float like a butterfly, sting like a bee ("Vola come una farfalla, pungi come un'ape")
Everything you want is on the other side of fear ("Tutto ciò che vuoi è dall'altra parte della paura")
Good girls go to heaven. Bad girls go everywhere ("Le brave ragazze vanno in paradiso. Le cattive ragazze vanno dappertutto")
To fear love is to fear life ("Temere l'amore è temere la vita")
The only dreams that matter are the ones you have when you're awake ("I soli sogni che contano sono quelli che hai quando sei sveglio")
Sometimes you need to let things go ("A volte è necessario lasciar andare Le cose")
If you can dream it, you can do it ("Se puoi sognarlo puoi farlo", frase di Walt Disney)
Take a chance, they don't come much bigger than this ("Cogli una possibilità, non ce ne sono molto più grandi di questa")
That which does not kill me makes me stronger ("Ciò che non mi uccide mi fortifica", frase di Friedrich Nietzsche)
Life is not measured by the number of breaths we take, but by the moments that take our breath away ("La vita non si misura da quanti respiri facciamo, ma dai momenti che ci tolgono il respiro", frase di Maya Angelolou)
There is always hope ("C'è sempre speranza")
This heart beats for only you ("Questo cuore batte solo per te")
You must be the change you want to see in the world ("Sii il cambiamento che vuoi vedere nel mondo", frase di Mahatma Gandhi)
If you don't live for something, You'll die for nothing ("Se non vivi per qualcosa, morirai per niente")
It is never too late to be what you might have been ("Non è mai troppo tardi per essere ciò che avresti potuto essere")
Fairy tales do not tell children the dragons exist. Children already know that dragons exist. Fairy tales tell children the dragons can be killed ("Le fiabe non insegnano ai bambini che i draghi esistono, loro lo sanno già che esistono. Le fiabe insegnano ai bambini che i draghi si possono sconfiggere", frase di GK Chesterton)
"You only live once, but if you do it right, once is enough" ("Si vive una volta sola, ma se lo fai bene, è sufficiente")
Sometimes when you fall you fly ("A volte quando cadi cominci a volare")
There is always hope ("C'è sempre speranza")
Alis volat propriis ("Vola con le tue ali" e in inglese "She flies by her own wings")
Faber est suae quisque fortunae ("Ognuno è artefice del proprio destino")
Memento audere semper ("Ricorda di osare sempre")
Fortis in arduis ("Forte nei momenti difficili")
Esto quod es ("Sii ciò che sei")
Lux in tenebris ("Luce nelle tenebre")
Semper fidelis ("Sempre fedele")
Amor est vitae essentia ("L'amore è l'essenza della vita")
Audentes fortuna juvat ("La fortuna aiuta gli audaci")
Tempus neminem manet ("Il tempo non attende nessuno")
Per aspera ad astra ("Attraverso le difficoltà fino alle stelle")
Panta Rei ("Tutto scorre", frase di Eraclito)
Un jour par fois ("Un giorno alla volta")
La vie est belle ("E' bella la vita")
C'est la vie ("E' la vita")
La vie enseigne, l'amour révèle ("La vita insegna, l'amore rivela")
Qui vit sans folie n'est pas si sage qu'il croit ("Chi vive senza follia non è così saggio come crede", frase di François de La Rochefoucauld)
La vie ne vaut rien mais rien ne vaut la vie ("La vita vale niente, ma niente vale la vita", frase di André Malraux)
Viva la vida ("Viva la vita")
La vita è sogno (frase di Pedro Calderón de la Barca)
La bellezza salverà il mondo (frase di Fiodor Dostoïevski)
Tutto l'amore del mondo
Domani è un altro giorno
Only God can judge me ("Solo Dio può giudicarmi")
Nessun rimpianto
Non rovinare mai il tuo presente per un passato che non ha futuro
Non è forte chi non cade, ma chi cadendo ha la forza di rialzarsi.
Bisogna perdersi per ritrovarsi
Nella vita ogni fine è solo un nuovo inizio
Il più bello dei nostri giorni è quello che non abbiamo ancora vissuto (verso di una poesia di Nazim Hikmet)
Don't worry be happy ("Non preoccuparti, sii felice")
Happiness depends upon ourselves ("La felicità dipende soprattutto da te stesso")
For every dark night, there's a brighter day ("Dopo ogni notte oscura, c'è un giorno luminoso")
If i look back, i am lost ("Se guardo indietro, sono perduto")
Take a breath and be strong ("Fai un respiro e sii forte")
You're under my skin ("Sei dentro la mia pelle")
Perfectly imperfect ("Perfettamente imperfetto")
If you don't live for something, you'll die for nothing ("Se non vivi per qualcosa, morirai per nulla")
With His love there is nothing I cannot do ("Con il suo amore non c'è niente che non posso fare")
Who is more real? ("Chi è più reale?")
Reality is wrong, dreams are for real ("La realtà è illusoria, solo i sogni sono reali")
You get what you give ("Tu ricevi quello che dai")
Heart means everything ("Il cuore significa tutto")
With pain comes strength ("Con il dolore arriva la forza")
My tears dry on their own ("Le mie lacrime si asciugano da sole", frase di una canzone di Amy Winehouse)
I will fear no evil for you are with me ("Non avrò paura di nessun dolore finché tu sei con me")
Faith Hope and Love ("Fede, speranza e amore")
Life can be beautiful ("La vita può essere bella")
Stay strong ( "Sii forte")
Forget your past, forgive yourself, and begin again ( "Dimentica il tuo passato, dimentica te stesso e ricomincia di nuovo")
One Life One Love ("Una sola vita Un solo amore")
I'm the one that has to die when it's time for me to die, so let me live my life, the way I want to ("Io sono quello che deve morire quando è tempo per me di morire, così lasciatemi vivere la mia vita, nel modo che voglio", frase di Jimi Hendrix)
Be yourself; everyone else is already taken ("Sii te stesso, tutto il resto è già stato preso", frase di Oscar Wilde)
To live is the rarest thing in the world. Most people exist, that is all ("Vivere è la cosa più rara al mondo. La maggior parte della gente esiste, ecco tutto", frase di Oscar Wilde)
Without music life would be an error ("Senza musica, la vita sarebbe un errore", frase di Frederich Nietzsche. In tedesco "Ohne Musik wäre das Leben ein Irrtum").
**
A) Frasi e scritte sui tatuaggi delle celebrità femminili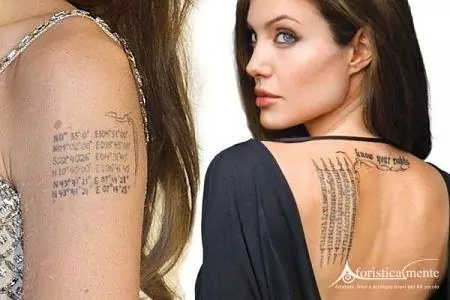 Jessica Alba
[In sanscrito] Padma (in italiano "Fiore di loto")
**
Jaimie Alexander
A prayer for the wild at heart, kept in cages ("Una preghiera per gli spiriti selvaggi, indomabili, rinchiusi nelle gabbie", versi di una poesia di Tennesse Williams)
**
Lily Allen
[Sul dito indice] shhh… (in italiano "Shhh" o anche "Fate silenzio")
**
Alessandra Amoroso
Chi canta prega due volte
**
Karis Anderson
Watch over me ("Veglia su di me")
La Vida Loca
Carpe Diem
**
Giulia Arena
Fatti non foste a viver come bruti, ma per seguir virtute e canoscenza
**
Asia Argento
Bob (in onore di Bob Marley)
Saved ("Salvata")
**
Bianca Atzei
Sesi sa vida mea ("Sei la mia vita")
**
Iggy Azalea
Trust Your Struggle ("Credi nella tua lotta")
Colour me Free ("Colorami liberamente", frase di una canzone di Joss Stone)
**
Ireland Baldwin
We can be heroes ("Possiamo essere eroi", frase della canzone Heroes di David Bowie)
Try a little tenderness ("Prova un po' di tenerezza", frase di una canzone di Micheal Bublè)
Bad to the bone ("Cattivo fino all'osso")
**
Fairuza Balk
Desire Dedication Devotion Discipline ("Desiderio Dedizione Devozione Discliplina")
**
Charlie Baltimore
We are never deceiving others, We're only deceiving ourselves ("Non siamo mai ingannati dagli altri, siamo solo ingannati da noi stessi")
**
Drew Barrymore
Breathe ("Respira")
**
Victoria Beckham
[in ebraico] Together, forever, eternally (in italiano "Insieme, per sempre, per l'eternità)
[In ebraico] I am my beloved's and my beloved is mine (in italiano "Io sono del mio amato e il mio amato è mio", verso tratto dal Cantico dei Cantici)
**
Belen
No llores si me amas, tu sonrisa es mi paz ("Non piangere se mi ami, il tuo sorriso è la mia pace" dedicato alla nonna scomparsa)
**
Paris Berelc
Fear is the enemy of love ("La paura è nemica dell'amore")
**
Kelli Berglund
vigilans diligentia auxilium
**
Chiara Biasi
Ad maiora ("verso cose più grandi")
Para mi para siempre ("Para mi para siempre")
**
Marzia Bisognin
La casa sulla luna
**
Jess Bowen
Sing While You Can ("Canta finché è possibile")
**
Maria Brink
"We shall overcome ("Ce la faremo", titolo di una canzone di protesta pacifista, cantata anche da Joan Baez)
**
Elisabetta Canalis
Pain is Love ("Il dolore è amore")
I'll never walk alone ("Non camminare mai da sola")
**
Costanza Caracciolo
Love is all you need ("L'amore è tutto ciò di cui hai bisogno")
**
Cardi B
Loyalty Over Royalty (di difficile traduzione in italiano "Sii leale a te stesso al di là di ogni potere")
**
Elenoire Casalegno
Tout l'amour du monde ("Tutto l'amore del mondo")
Un ideogramma cinese che significa "casa, famiglia, unione".
**
Karina Cascella
Just Breathe ("Bisogna solo respirare")
Let it be ("Lascia che sia")
**
Katie Cassidy
Alis volat propriis ("Vola con le tua ali")
Love Thyself Know Thyself Be Thyself ("Ama te stesso Conosci te stesso Sii te stesso". Il tatuaggio riprende il detto latino "Nosci te ipsum")
**
Karly Chaikin
Strike another match Go start anew And it's all over now Baby Blue ("Accendi un altro fiammifero, ricomincia daccapo E' tutto finito adesso, Baby Blue", frase di una canzone di Bob Dylan)
There's always hope ("C'è sempre speranza")
No rest for the weary ("Non c'è riposo per la fatica")
**
Carah Faye Charnow
Fighting My Battle ("Combatti la tua battaglia")
**
Laura Chiatti
Io sono il padrone del mio destino, io sono il capitano della mia anima (versi di una poesia di William Ernest Henley)
Ciò che mi nutre mi distrugge (scritta metà su un piede e metà sul'altro)
**
Kelly Clarkson
Love then more ("Ama ancora di più")
**
Kiersey Clemons
Walk by faith ("Cammina con fiducia")
**
Frances Bean Cobain
L'art est la Solution au Chaos ("L'arte è la soluzione al caos")
There's the moon asking to stay Long enough for the clouds to fly me away ("C'è la luna che chiede di restare Quanto basta perché le nuvole mi facciano volare via", verso di una canzone di Jeff Buckley)
**
Keysha Cole
Have Faith ("Abbi fede")
Truly Blessed ("Sono veramente fortunato")
**
Brianna Collins
I long for you to hold me in your arms ("Desidero averti tra le mie braccia")
**
Lily Collins
Love Always and Forever ("Amore per sempre")
**
Tulisa Contostavlos
She is strong when she is weak She is brave when she is scared She is humble when she is victorious ("Lei è forte quando è debole Lei è coraggiosa quando ha paura Lei è umile quando è vittoriosa")
The Female Boss ("La donna capo")
**
Maddalena Corvaglia
La vita è un brivido
che vola via
è tutto
un equilibrio
sopra
la
f
o
l
l
i
a
**
Ash Costello
Love kills ("L'amore uccide")
Everything was beautiful and nothing hurt ("Tutto era bello e nulla stonava", frase tratta dal libro Mattatoio n.5 di Kurt Vonnegut)
You Love Carries On ("Il tuo amore va avanti")
I wished for you ("Ti ho desiderato")
Believe
**
Zoe Cristofoli
Never let the fear of striking out keep you from playing the game ("Non permettere mai che la paura di perdere ti impedisca di partecipare")
**
Miley Cyrus
Just Breathe ("Semplicemente respira")
Love never dies ("L'amore non muore mai")
So that his place shall never be with those cold and timid souls who knew neither victory nor defeat ("Dunque il suo posto non sarà mai accanto a quelle anime timide che non conoscono né la vittoria, né la sconfitta", frase di Theodore Roosevelt)
Karma (nell'interno del dito)
**
Lil Debbie
Alpha Femme ("Femmina alfa")
**
Cara Delevinge
Do not worry, be happy ("Non preoccuparti, sii felice")
Made in England
Silence
**
Lana Del Rey
Trust no one ("Non fidarti di nessuno")
Paradise
Die young ("Morire giovani")
Nabokov Whitman (i due celebri scrittori)
**
Dev
We used to talk like lovers ("Siamo abituati a parlare come amanti", frase di una canzone dei Cataracs)
**
Sammi Dol
Why use the word when the word means to believe ("Perché usare le parole quando le parole significano credere")
**
Hilary Duff
Let it be ("Lascia che sia", frase di una canzone dei Beatles)
**
Jourdan Dunn
Fear is not an option ("La paura non è una possibilità")
**
Sherri DuPree-Bemis
Say Anything ("Dii qualunque cosa")
Maxim
**
Beha Erichsen
This World Tonight Is Mine ("Il mondo oggi è mio")
**
Chiara Ferragni
You are hotter than the flames in hell ("Tu sei più calda delle fiamme dell'inferno")
Life is made of small moments like this ("La vita è fatta di piccoli momenti come questo")
KissKillKiss
Baby girl
Ode alla vita
Luce
**
Chloe Ferry
You'll never accomplish anything If you don't believe that you can ("Tu non realizzerai mai nulla se non credi che puoi farlo")
**
Megan Fox
We will all laugh at gilded butterflies ("Tutti rideremo delle farfalle dorate", dal Re Lear di William Shakespeare)
There once was a little girl who never knew love until a boy broke her HEART ("C'era una volta una bambina che non aveva mai conosciuto l'amore, fino a quando un ragazzo ruppe il suo cuore")
And those who were seen dancing were thought to be insane by those who could not hear the music ("E quelli che ballavano erano visti come pazzi da quelli che non sentivano la musica", frase di Friedrich Nietzsche)
**
Selena Gomez
God Who Strengthens Me ("E' Dio che mi dà la forza")
**
Ariana Grande
Mille tendresse ("Migliaia di tenerezze")
Bellissima
**
Allison Green
All my dreams & all the lights mean nothing without you ("Tutti i miei sogni e tutta la mia luce non significano nulla senza di te", frase di una canzone di Lana del Rey)
**
Elisabetta Gregoraci
Mamma, I will never be the same without you ("Mamma, non sarò più la stessa senza di te")
Quello che c'è in fondo al cuore non muore mai.
**
Skylar Grey
The Journey is the Reward ("Il viaggio è la ricompensa")
If at first the idea is not absurd, then there is no hope for it ("Se all'inizio l'idea non è assurda, non c'è speranza per essa", frase di Albert Einstein)
**
Halsey
These violent delights have violent ends ("Queste gioie violente hanno fini violente", tratto da Romeo e Giulietta)
Serendipity
**
Sarah Harding
Sé quien eres y mente no importante ("Se cerchi chi sei… la mente non è importante")
**
Niykee Heaton
impilo entsha (frase zulu, in italiano "Nuova vita")
My ambition is my weaponry ("La mia ambizione è la mia arma")
Thy eternal summer shall not fade ("La tua eterna estate non deve svanire")
**
Amber Heard
Te amo como se aman ciertas cosas oscuras, secretamente, entre la sombra y el alma ("T'amo come si amano certe cose oscure, segretamente,entro l'ombra e l'anima", frase di Pablo Neruda)
**
Katya Elise Henry
Thorns and Stings
And Those Such Things
Just Make Stronger
Our Angel Wings
("Spine e punture e cose come queste rendono più forti le nostre ali d'angelo", versi di una poesia di Terri Guillemets)
**
Jordan Hinson
Aut viam inveniam aut faciam ("Troverò una strada o ne farò una")
He who makes a beast of himself gets rid of the pain of being a man ("Colui che fa di se stesso una bestia si libera della fatica di essere un uomo", frase di Samul Johnson).
mad to live ("pazza di vita")
**
Sarah Hyland
Follow my heartbeat ("Segui il battito del mio cuore", titolo di una canzone di Pia Zadora)
**
Katrina Jakcson
No fear. No distractions. The ability to let that which does not matter truly slide ("Nessuna Paura. Nessuna Distrazione. La capacità di lasciarsi scivolare di dosso ciò che non conta" frase tratta dal libro Fight club)
**
Paris Jackson
Imagine all the people living life in peace ("Immagina tutta la gente che vive in pace", frase della canzone "Imagine" di John Lennon)
Faith trust and pixie dust ("Fede, fiducia e polvere di fata", celebre frase tratta dal libro di Peter Pan)
**
Scarlett Johansson
Lucky you ("Sei fortunato")
**
Angelina Jolie
Know your rights ("Conosci i tuoi diritti")
A prayer for the wild at heart, kept in cages ("Una preghiera per gli spiriti selvaggi, indomabili, rinchiusi nelle gabbie" versi di una poesia di Tennesse Williams)
Quod me nutrit, me destruit ("Ciò che mi nutre mi distrugge")
[In lingua thailandese] May your enemies run far away from you. If you acquire riches, may they remain yours always.
Your beauty will be that of Apsara. Wherever you may go, many will attend, serve and protect you, surrounding you on all sides ("Possano i tuoi nemici correre lontano da te. Se acquisterai ricchezze, possano rimanere per sempre tue. La tua bellezza sarà quella di Apsara. Ovunque andrai, molti parteciperanno, servendoti e proteggendoti, circondandoti da ogni parte").
**
Kehlani
Perdida y Encontrada ("Perduta e incontrata")
Espíritu Libre ("Spirito libero")
Today Is the Best Day Ever ("Oggi è il giorno più bello")
**
Jamie King
You always call me when I've given all my love away, I find your ocean in its place, by loving you I find your grace
A depth of love few alone could fathom
**
Miss Kittin
Braccio 1: INHALE (inspira) – Braccio 2: EXHALE (espira).
**
Alexis Kraus
Never Say Die ("Non mollare mai")
**
Lady Gaga
Born this way ("Sono nata così", titolo di una canzone di Lady Gaga)
**
Avril Lavigne
Fuck
**
JoJo Levesque
God, grant me the serenity to accept the things I cannot change, The courage to change the things I can, And wisdom to know the difference ("Dio, concedimi la serenità di accettare le cose che non posso cambiare, il coraggio di cambiare le cose che posso, e la saggezza per conoscere la differenza", Preghiera della serenità")
Ever to excel ("Bisogna eccellere sempre")
Live Free Or Die ("Vivi libera o muori")
Truth ("Verità")
**
Due Lipa
This Means Nothing ("Questo non significa nulla")
**
Cher Lloyd
You are my sunshine My only sunshine ("Tu sei la luce del sole, La mia sola luce del sole")
All that you have is your soul ("Tutto ciò che hai è la tua anima")
Bosillo lleno de sueños ("Tasche piene di sogni")
**
Lindsay Lohan
Clear as crystal, sharp as a knife, I feel like I'm in the prime of my life ("Trasparente come un cristallo, affilata come un coltello, mi sento nel fiore degli anni", frase di una canzone di Billy Joel)
Everyone's a star and deserves the right to twinkle ("Ognuno è una stella e merita il diritto di brillare")
Live without regrets ("Vivi senza rimpianti")
I restore myself when I'm alone ("Ritrovo me stessa quando sono sola", frase di Marilyn Monroe)
Bella Vita
**
Demi Lovato
Stay strong ("Sii forte")
Let Go & Let God (intraducibile, il significato è "Lascia che ci pensi Dio)
**
Courtney Love
Don't Dream It Be It ("Non sognare, fallo" o anche "Non sognarlo, siilo")
**
Eva Marcille
Excuse me while i kiss the sky ("Scusami se bacio il cielo", frase di Jimi Hendrix)
**
Samantha Maria
We're all mad here ("Siamo tutti pazzi qui" da Alice nel paese delle meraviglie)
This too shall pass ("Anche questo passerà")
Angels play sounds of sweet sorrow on the strings of my heart ("Gli angeli suonano note di dolce tristezza sul mio cuore")
Live Laugh Love ("Vita Sorriso Amore)
**
Emma Marrone
Je m'en fous ("Me ne fotto)
Oltre (con il simbolo dell'infinito)
**
Jodie Marsh
Only God Can Judge Me ("Solo Dio può giudicarmi")
Life's too short ("La vita è troppo breve")
My Crazy Life ("La mia pazza vita")
**
Melania Martinez
We love our bread, we love our butter, but most of all, we love each other ("Amiamo il nostro pane, amiamo il nostro burro, ma soprattutto, amiamoci l'un con l'altro")
**
Hanna Beth Merjos
Never Mind The Bollocks ("Non dare retta alle balle", frase di una canzone dei Sex Pistols)
Karma
rebel rebel
Rock N Roll
Miss (con la cadenza di una lettera per ognuna delle quattro dita, escluso pollice)
Ma cherie, je t'aime ("Mia cara, io ti amo")
Let It Bleed ("Lascia Sanguinare")
**
Lea Michele
I believe ("Io credo")
**
Alyssa Milano
Hum (dal mantra "Om Mani Padme Hum" che simbolizza l'unità dello spirito e della vita pratica)
**
Nicole Minetti
Kyrie Eleison ("Signore, pietà")
**
Nina Moric
Hopelessly Devoted To You ("Perdutamente legata a te")
**
Chiara Nasti
Life is either a daring adventure or nothing ("La vita o è un'audace avventura oppure non è nulla")
I love you
Wild
Veni Vidi Vici
**
Neon Hitch
They said I'm a dreamer ("Loro hanno detto che sono un sognatore")
**
Asia Nuccetelli
But without the dark we'd never see the stars ("Senza il buio, non vedremmo mai le stelle")
Never say never ("Mai dire mai")
Lolita in red
**
Hayden Panettiere
Vivere senza rimipianti (poi rimosso per un errore del testo)
Libertà
**
Jannel Parish
Garder un bon coeur ("Custodire un cuore buono")
What if you fly..? ("Che cosa succederebbe se tu volassi"?)
Earth laughs in flowers ("La terra ride tra i fiori")
Amor vincit omnia ("L'amore vince ogni cosa")
**
Elsa Pataky
Quod quid sumus id esse voluimus ("Questo è ciò che abbiamo desiderato di essere")
**
Federica Pellegrini
Nient'altro che noi
Sono tranquilla, sono casinista,
sono libera, ma so quel che voglio,
sono una che vive il presente e guarda al futuro,
sono un coniglio e sono un leone,
sono una piuma, sono un peso massimo,
sono lampo e sono tuono,
sono delicata e sono brutale,
sono umile e sono orgogliosa,
sono timida e sono feroce,
sono tenace, sono flessibile,
sono impalpabile, sono concreta,
sono una che va in fondo.
**
Kate Perry
"Segui il flusso" in lingua indiana
**
Linda Perry
Don't Think, Just Do It ("Non pensare, fallo e basta")
**
Alison Pill
Be melting snow ("Sii neve che si scioglie", verso di una poesia di Rumi)
**
Pina (nome d'arte di Orsola Branzi, conduttrice Radio Dejay)
No more pain ("Basta dolore)
soloDiosbasta
Homeward bound ("Diretto verso casa" accanto all'immagine di un veliero)
**
Pink
What goes around comes around ("Ciò che fai ti tornerà indietro", frase di una canzone di Justin Timberlake)
**
Sophie Riche
13.4 (il numero si riferisce al celebre versetto dai Corinzi "Love is patient, love is kind. It does not envy, it does not boast, it is not proud")
**
Rihanna
Al Hurria fi Al Maseeh ("Libertà in Dio")
Never a failure, always a lesson" ("Mai un fallimento, sempre una lezione")
Rebelle fleur ("Fiore ribelle")
**
LeAnn Rimes
The only one that matters ("L'unica che conta")
Still I Rise ("Ancora mi rialzo", verso della poetessa Maya Angelou)
**
Bahja Rodriguez
Music is my love Music is my life ( "La musica è il mio amore, la musica è la mia vita", il primo compare sul braccio sinistro e il secondo sul braccio destro)
**
Amber Rose
Frosty ("Glaciale" o anche "Gelido")
**
Ruby Rose
So close no matter how far Couldn't be much more from the heart Forever trust in who we are And nothing else matters ("Così vicino non importa quanto lontano Non può essere troppo lontano dal cuore Abbi sempre fiducia in chi siamo E nient'altro ha importanza", testo di una canzone dei Metallica)
Nothing Takes Away The Past Like The Future ("Niente riprende il passato lontano come il futuro", testo di una canzone di Madonna)
And breathe me ("E respirami")
Just Love ("Solo amore", ognuno delle 8 lettere compare sulle 8 dita delle due mani, pollici esclusi)
Run With Wild Horses ("Corri con i cavalli selvaggi")
Maybe she's born with it ("Forse lei è nata così")
Here ("Qui" vicino a una piccola stella)
D.I.Y. acronimo per Do It Yourself ("Fallo tu stesso")
Be the person your dog thinks you are ("Sii la persona che il tuo cane pensa che sia")
**
Nikki Sanderson
Memoria In Aeterna ("In eterna memoria")
**
Melissa Satta
In life every ending is just a new beginning ("Nella vita ogni fine è solo un nuovo inizio")
L'amore è liberta Non è possesso
I love you
Kevin Prince ti amerò per sempre
**
Justine Skye
Emotionally Unavailable ("Emotivamente non disponibile")
**
Kristen Stewart
One more time with feeling ("Ancora una voilta con sentimento")
**
Taylor Swift
Youve got every right to a beautiful life' ("Avete tutti il diritto di vivere un vita splendida", tatuaggio temporaneo mostrato a un concerto)
**
Martina Stoessel
All you need is love ("Tutto ciò di cui hai bisogno è amore", titolo di una canzone dei Beatles)
**
Mena Suvari
Word sound power ("Parola, suono, potere")
**
Anna Tatangelo
Work for a cause, not for applause. Live life to express, not to impress. Don't strive to make your presence noticed, just make your absence felt ("Lavora per una causa, non per l'applauso. Vivi la vita per esprimere, non per impressionare. Non ti sforzare di far notare la tua presenza, ma fai in modo che si noti la tua assenza")
**
Ashley Tisdale
[In sanscrito] Everything happens for a reason ( "Ogni cosa accade per una ragione")
**
Melissa Toniolo
Lo Que Me Nutre Me Destruye ("Quel che mi nutre mi distrugge")
…pelle d'anima
**
Karrueche Tran
The past is practice ("Il passato è pratica")
A beautiful life does not just happen, it is built daily by prayer, humility, sacrifice and love. May that beautiful life be yours always ("Una vita bella non accade così, essa viene costruita giorno dopo giorno con la preghiera, l'umiltà, il sacrificio e l'amore. Fa' sì che una vita bella sia tua per sempre")
Where there is love, there is life ("Dove c'è amore, c'è vita", frase di Mahatma Gandhi)
An ounce of blood is worth more than a pound of friendship ("Un'oncia di sangue vale molto più di un chilo di amicizia")
**
Cassie Ventura
Post tenebras lux ("Dopo le tenebre la luce")
**
Katie Waissel
Daddy's Girl
Have Faith… Let It Be ("Abbi fede… lascia che sia")
Nothing is Impossible ("Niente è impossibile")
All I can do is be me Whoever that is ("Tutto quello che posso fare è essere me stesso, chiunque io sia", frase di Bob Dylan)
**
Erin Wasson
This heart will start a riot in me ("Questo cuore inizierà una rivolta denro di me", frase di una canzone dei Paramore)
Shelter ("rifugio")
**
Hayley Williams
Accentuate the positive Eliminate the negative ("Sottolinea il positivo Elimina il negativo")
**
Rumer Willis
be present ("Sii presente)
**
Jessica White
Made and created By God to destroy Satan's kingdom ("Fatto e creato da Dio per distruggere il regno di Satana")
All power is given unto me in heaven and in earth ("A me è stato dato ogni potere in cielo e in terra", Matteo 28:18)
I Have Immortal Life In the Sun ("Ho una vita immortale sul sole")
**
Evan Rachel Wood
All that we see or seem is but a dream within a dream ("Tutto ciò che vediamo e sembriamo è solo un sogno nel sogno", tratto da un poema di Edgar Allan Poe).
**
Yasmine Yousaf
Certum est quia impossibile est ("E' certo poiché è impossibile")
**
Yahan Yousaf
Love All Hate None Trust Few ("Ama tutti, credi a pochi e non far del male a nessuno", frase di William Shakespeare)
Life is a Dance Floor ("la vita è una pista da ballo")
One More Night ("Ancora una notte")
**
Asami Zdrenka
[in caratteri giapponesi] Pace passione felicità
**
B) Frasi e scritte sui tatuaggi delle celebrità maschili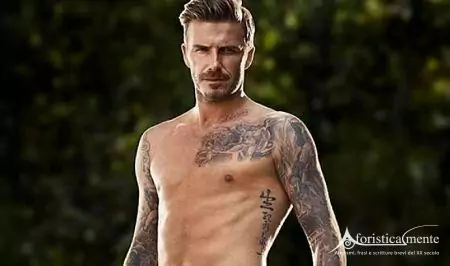 **
Daniel Agger
Death is certain but the hour is uncertain ("La morte è certa, ma l'ora è incerta", dal proverbio latino "Mors certa, hora incerta")
**
Mario Balotelli
I am the punishment of God
If you had not committed great sins
God would not have sent a punishment like me upon you
("Io sono la punizione di Dio Se non aveste commesso grandi peccati Dio non avrebbe mandato uno come me a punirvi". Frase del condottiero Gengis Khan)
**
Travis Barker
Chaos Often Breeds Life, When Order Breeds Habit ("Il caos spesso genera la vita, laddove l'ordine spesso genera l'abitudine", frase di Henry Adams)
can I say
One life, one chance ("Una vita, una possibilità")
Cadillac
Self made ("Mi sono fatto da solo")
**
David Beckham
Let them hate as long as you fear ("Lascia che mi odino purché mi temano", frase dell'imperatore Caligola. In latino "Oderint dum metuant").
Dream big, be unrealistic ("Sogna in grande, non essere realistico", di Jay-X)
Pray for me ("Prega per me")
Ut Amen et Foveam ("Così io ti amo e mi prendo cura di te" dedicato alla moglie Victoria)
I am my beloved and my beloved is mine" ("Io sono del mio diletto e il mio diletto è mio" tratto dal Cantico dei Cantici)
Death and life have determined appointments. Riches and honour depend upon in heaven" ("Morte e vita hanno appuntamenti prefissati. Ricchezze e onore dipendono dal cielo", Proverbio cinese)
Perfection In Spiritu ("La perfezione nello spirito")
Lead with love ("Portato con amore", dedicato alla piccola Harper)
My son do not forget my teaching but keep my commands in your heart ("Figlio mio non dimenticare i miei insegnamenti e tienili nel tuo cuore", tratto dal Libro dei Proverbi)
Forever by your side ("Per sempre al tuo fianco")
In the face of adversity ("Contro le avversità")
**
Justin Bieber
Your word is a lamp for my feet, a light on my path. ("La tua parola è lanterna ai miei piedi, una luce nel mio cammino", Salmo 119:105 della Bibbia)
Believe (in italiano "Credi")
**
Kevin Prince Boateng
Love is pain and pain is love ("L'amore è dolore e il dolore è amore")
Famiglia, salute, amore (in ideogrammi cinesi)
**
Leonardo Bonucci
Per aspera ad astra ("Attraverso le asperità fino alle stelle")
**
Chris Brown
Symphonic love ("Amore sinfonico")
**
Fabrizio Corona
Free (Con la cadenza di una lettera per ogni dito escluso il pollice)
Ho attraversato la tempesta, ho lottato fino all'ultimo. Ora si riparte.
**
Jonny Deep
Wino Forever ("Ubriaco per sempre" , originariamente era "Winona Forever" dedicato alla sua ex compagna)
Silence Exile Cunning ("Silenzio, Esilio, Destrezza", frase tratta da un romanzo di James Joyce )
No Reason (titolo di una canzone di Marylin Manson)
Come with me… Slim ("Vieni con me… Slim")
Man, is a giddy thing ("L'uomo, è cosa frivola", di William Shakespeare)
**
Stefano De Martino
Niente santi in Paradiso, perché santi non ce n'è
Live like you are going to die tomorrow, learn like you are going to live forever ("Vivi come se dovessi morire domani, impara come se dovessi vivere per sempre", Gandhi)
Sia la strada al tuo fianco, il vento sempre alle tue spalle, che il sole splenda caldo sul tuo viso, e la pioggia cada dolce nei campi attorno e, finché non ci incontreremo di nuovo, possa Dio proteggerti nel palmo della sua mano (Preghiera irlandese)
**
Daniele De Rossi
Ubi tu gaius, ego gaia ("Dovunque tu sarei, io sarò")
**
Andrea Dovizioso
Sono padrone del mio destino, ma solo il destino conosce la fine del mio cammino
**
Drake
Everything happens for a reason sweet thing ("Ogni cosa accade per una dolce ragione")
**
Eminem
Rot in Pieces ("Marciume In Pezzi")
Slit Me ("Tagliami")
**
Colin Farrel
I love No matter ("Ti amo qualunque cosa succeda")
Carpe diem
**
Fabri Fibra
Love is a murder ("L'amore è un delitto")
**
Olivier Giroud (giocatore Arsenal)
Dominus regit me et nihil mihi deerit ("Il Signore è il mio pastore e nulla mi mancherà", frase del Salmo 23)
**
Ryan Gosling
WHR (è la Werewolf Heart Records, casa discografica dell'attore)
**
Lewis Hamilton
Still I rise ("Ancora mi alzerò")
**
James Hetfield (componente dei Metallica)
Live to Win, Dare to Fail ("Vivi per vincere, osa sbagliare", testo di una canzone dei Metallica)
Lead Foot (di difficile traduzione, detto di un automobilista che ama andare veloce)
**
Hulk Hogan
I am what I am ("Io sono ciò che sono")
**
Zlatan Ibrahimovic
Only God Can Judge Me ("Solo Dio può giudicarmi")
**
Juan Manuel Iturbe
Solo Dios podra juzgarme ("Solo Dio potrà giudicarmi")
**
J-Ax
Benedetta
[In ideogramma giapponese] Vincere
I shall triumph ( "Io trionferò")
**
Bill Kaulitz dei Tokio Hotel
Wir hören nie auf zu schreien. Wir kehren zum Ursprung zurück ("Non smettiamo mai di gridare. Ritorniamo alle origini")
**
Emis Killa
L'envie fait du mal qu'aux envieux ("L'invidia fa male solo agli invidiosi")
I rap, you snitch ("Io rappo, tu fai la spia")
Come un pitbul
Loyal to the game ("Fedeli al gioco")
Privè
**
Joleon Lescott (giocatore Manchester City)
Don't listen to anybody that known me because to have known me would mean that there's a new me ( "Non ascoltate qualcuno che dice di conoscermi perché conoscere me significa che c'è un nuovo me")
**
Jared Leto
Provehito in Altum ("Desiderio profondo")
**
Adam Levin
[In sanscrito] Meditation
[Ripetuto 3 volte sul bicipite interno] you're so cool
**
Zayn Malik
Be true to who you are ("Sii fedele a ciò che sei")
It's a pirate's life for me ("La vita di un pirata per me")
**
Claudio Marchisio
Impossible is nothing ("Niente è impossibile")
**
Marco Materazzi
Se un problema non si può risolvere, a che serve preoccuparsi?
Daniela I belong ("Io appartengo a Daniela")
**
Travie McCoy
Listen Hard and Speak Soft ("Ascolta attentamente e parla piano")
**
Aldo Montano
Memento Audere Semper ("Ricorda di osare sempre")
**
Radja Nainggolan
One life one wish ("Una vita un desiderio")
**
Simon Neil
God only knows what I'd be without you. ("Solo Dio sa cosa sarei senza di te")
**
Neymar da Silva Santos Júnior
Tudo passa ("Tutto passa")
Ousadia Alegria ("Coraggio" e "Allegria")
Love
Shhh …
Never ending love ("l'amore non finisce mai")
Life is a joke ("La vita è un gioco")
Por vontade de Deus, somos irmãos ("Per volontà di Dio siamo fratelli")
Deus é fiel ("Dio è fedele", tatuaggio fatto dopo la vittoria in Champions)
Stay strong ("Sii forte")
Faz parte de minha historia ("Fai parte della mia storia", tatuaggio che condivide con altri 3 amici dell'infanzia)
Toda arma E toda língua Bola que é sua Que não é sua (tatuaggio di difficile traduzione. Letteralmente "Ogni pistola" "E ogni lingua" "Qual è la tua palla" "Questo non è tuo")
**
Walter Nudo
L'uomo è irragionevole, illogico, egocentrico, non importa, amalo; se fai il bene, ti attribuiranno secondi fini egoistici, non importa, fa' il bene. Se realizzi i tuoi obiettivi, troverai falsi amici e veri nemici, non importa, realizzali. Il bene che fai verrà domani dimenticato, non importa, fa' il bene. L'onestà e la sincerità ti rendono vulnerabile, non importa, sii franco e onesto. Quello che per anni hai costruito può essere distrutto in un attimo, non importa, costruisci. Se aiuti la gente, se ne risentirà, non importa, aiutala. Da' al mondo il meglio di te, e ti prenderanno a calci, non importa, da' il meglio di te. Madre Teresa di Calcutta
**
Liam Payne (componente del gruppo One Direction)
Everything I ever wanted, but nothing that I'll ever need ("Tutto quello che volevo ma niente di cui avrò bisogno")
**
Guè Pequeno
Speak the truth ("Dì la verità")
I'm blind to you haters ("Non vi vedo haters")
**
Mauricio Pinilla
One centimeter from glory ("Un centimetro dalla gloria". Il tatuaggio ricorda il gol fermato dalla traversa nella partita Cile-Brasile)
For Life ("Per la vita")
**
Oscar Pistorius
I Corínthios 9; 26-27
Ego ígitur sic curro, non quasi in incértum:
sic pugno, non quasi áërem vérberans:
sed castígo corpus meum, et in servitútem rédigo:
ne forte cum áliis prædicáverim,
ipse réprobus effíciar.
I Corinzi 9; 26-27
("Io corro così, non in modo incerto. combatto, ma non come chi batte l'aria; anzi, tratto duramente il mio corpo e lo riduco in schiavitù, perché non avvenga che, dopo aver predicato agli altri, io stesso sia squalificato")
**
Brad Pitt
Absurdités de l'existence (Assurdità dell'esistenza) sotto il profilo stilizzato della mummia di Otzi
Invictus (Invincibile) sotto il profilo stilizzato della mummia di Otzi
There exists a field, beyond all notions of right and wrong. I will meet you there ("Al di là di quello che è giusto e sbagliato lì fuori c'è un giardino ed è li che ti aspetterò", versi di una poesia di Rumi)
**
Sergio Ramos
Thanks god for my unconquerable soul.
I am the master of my fate
the captain of my soul 30-03-86
("Grazie a Dio per l'indomabile anima mia. Io sono il padrone del mio destino il capitano della mia anima", versi di una poesia di William Ernest Henley)
**
Axl Rose (componente del gruppo Guns and Roses
Victory or death ("Vittoria o morte")
**
Charlie Sheen
Back in 15 minutes ("Ritorno fra 15 minuti")
Death From Above ("La morte dall'alto)
Winning ("Vincente")
**
Trey Songz
To God I pray may April's showers rain on her forrest and grow strength that started with one rose (Testo di difficile traduzione)
**
Justin Timberlake
[Sopra l'immagine di un angelo] Guardian
**
Keith Urban (cantante e marito di Nicole Kidman)
Omnia vincit amor ("L'amore vince ogni cosa")
**
Gianluca Vacchi
Prendi in mano la tua vita
Resilienza
enjoy ("Vivi la vita", con la cadenza di una lettera per ogni dito)
**
Lil Wayne
I am Music ("Io sono musica")
Fear God ("Temi Dio")
Life's A Gamble ("La vita è un azzardo")
**
Robbie Williams
All You Need Is Love ("Tutto ciò di cui hai bisogno è amore, Beatles)
Chacun à son goût (Ciascuno ha il suo gusto")
**
NOTA
Le frasi riportate sono tutte di pubblico dominio (quasi sempre sono le stesse celebrità a mostrarle sui canali social). Le frasi sono in lingua originale con traduzione in italiano (laddove possibile).