Ed Sheeran (Halifax, 17 febbraio 1991) è considerato uno dei cantautori più apprezzati e talentuosi degli ultimi anni.
Presento una raccolta delle 50 frasi più belle di Ed Sheeran in inglese con traduzione in italiano. Tra i temi correlati si veda Le più frasi più belle di Kurt Cobain, Le più belle frasi di John Lennon e Le 110 frasi in inglese più belle di sempre (con traduzione).
**
Le 50 frasi più belle di Ed Sheeran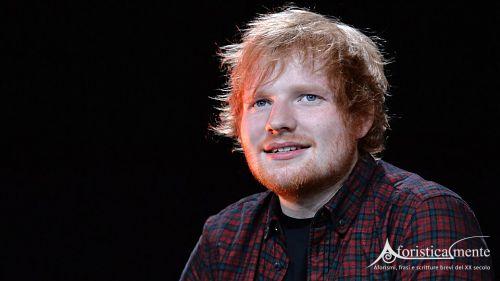 Everything will be okay in the end. If it's not okay, then it's not the end.
Alla fine tutto andrà bene. Se non va bene, allora non è la fine.
Loving can hurt, loving can hurt sometimes
But it's the only thing that I know.
L'amore può far male, l'amore può ferirti a volte,
ma è l'unica cosa che so.
I'm thinkin' bout how
People fall in love in mysterious ways
Maybe its all part of a plan
Me i fall in love with you every single day.
Sto pensando a come
Le persone si innamorano in modi misteriosi
Forse è tutto parte di un piano
Io mi innamoro di te ogni singolo giorno.
But darling, just kiss me slow, your heart is all I own
And in your eyes you're holding mine.
Ma tesoro, baciami lentamente, il tuo cuore è tutto ciò che possiedo
E nei tuoi occhi stringi i miei.
Baby, I'm dancing in the dark, with you between my arms
Barefoot on the grass, listening to our favorite song
When I saw you in that dress, looking so beautiful
I don't deserve this, darling, you look perfect tonight.
Piccola, sto ballando al buio con te tra le mie braccia
A piedi nudi sull'erba, ascoltando la nostra canzone preferita
Quando hai detto che sembravi un casino, ho sussurrato sotto il mio respiro
Ma hai sentito, tesoro, sei perfetta stasera
A heart that's broke is a heart that's been loved.
Un cuore che è infranto è un cuore che è stato amato.
Love flows deeper than the river
every moment that I spend with you.
Il sangue scorre più in profondità di un fiume
ogni momento che trascorro con te.
When the world's against me
is when I really come alive.
E quando il mondo è contro di me
è il momento in cui mi sento davvero vivo.
I chased the pictured perfect life, I think they painted it wrong
I think that money is the root of all evil and fame is hell.
Ho inseguito il ritratto della vita perfetta, penso che l'abbiano dipinto sbagliato
Credo che il denaro sia la radice di tutti i mali e la fama sia l'inferno.
Save your lovin' arms for a rainy day
And I'll find comfort in my pain, eraser.
Conserva le tue braccia amorevoli per un giorno di pioggia
E troverò conforto nel mio dolore, gomma da cancellare.
Baby, I'm dancing in the dark with you between my arms
Barefoot on the grass, listening to our favorite song
When you said you looked a mess, I whispered underneath my breath
But you heard it, darling, you look perfect tonight.
Piccola, sto ballando al buio con te tra le mie braccia
A piedi nudi sull'erba, ascoltando la nostra canzone preferita
Quando dicevi che sembravi un disastro, sussurravo sottovoce
Ma lo sentivi, tesoro, sei perfetta questa sera.
Just be you. That's the best advice I can give. There are seven billion people in this world and there is no one like you.
Sii solo te stesso. Questo è il miglior consiglio che posso darti. Ci sono sette miliardi di persone in questo mondo e non c'è nessuno come te.
Before I save someone else, I have to save myself.
Prima di salvare qualcun altro, devo salvare me stesso.
It's alright to die, cause death is the only thing you haven't tried.
È giusto morire, perché la morte è l'unica cosa che non hai provato.
Success is nothing if you have no one left to share it with.
Il successo è nulla se non hai nessuno con cui condividerlo.
Be original; don't be scared of being bold!
Sii originale; non aver paura di essere audace!
The main thing that you have to remember on this journey is, just be nice to everyone and always smile.
La cosa principale che devi ricordare in questo viaggio è, sii gentile con tutti e sorridi sempre.
What didn't kill me, it didn't make me stronger at all.
Quello che non mi ha ucciso, non mi ha affatto reso più forte.
The worst things in life come free to us
Cos we're just under the upperhand.
Le cose peggiori nella vita arrivano gratis
Perché siamo nelle mani della fortuna.
White lips, pale face
Breathing in snowflakes.
Labbra bianche, viso pallido
Respira tra i fiocchi di neve
I've fallen for your eyes, but they don't know me yet.
Mi sono innamorato dei tuoi occhi, ma non mi conoscono ancora.
It's too cold outside for angels to fly.
Fa troppo freddo fuori perché gli angeli possano volare.
You are the earth that I will stand upon.
You are the words that I will sing.
Tu sei la terra su cui starò
Tu sei le parole che canterò.
Don't tell me you need me if you don't believe it.
Non dirmi che hai bisogno di me se non ci credi.
I could live, I could die hanging on the words you say.
Potrei vivere, potrei morire appeso alle parole che dici.
I can't tell you the key to success, but the key to failure is trying to please everyone.
Non posso dirvi la chiave del successo, ma la chiave del fallimento è cercare di accontentare tutti.
Do what you love, work as hard as you can, and make people happy.
Fai ciò che ami, lavora più che puoi e rendi felici le persone.
The club isn't the best place to find a lover
So the bar is where I go.
La discoteca non è il posto migliore per trovare l'amore
quindi me ne andrò al bar.
Girl, you know I want your love
Your love was handmade for somebody like me
Come on now, follow my lead.
Ragazza lo sai che voglio il tuo amore
il tuo amore è stato fatto su misura per qualcuno come me
dai vieni, segui il mio ritmo
I'm in love with the shape of you
We push and pull like a magnet too.
Sono innamorato della tua forma
noi ci attiriamo e respingiamo come delle calamite.
The revolution's coming, it's a minute away
I saw people marching in the streets today
You know we are made up of love and hate
But both of them are balanced on a razor blade.
La rivoluzione sta arrivando, è a un minuto di distanza
Ho visto persone che marciano per le strade, oggi
Sai che siamo fatti di amore e odio
Ma entrambi sono bilanciati su una lama di rasoio
Love can change the world in a moment
But what do I know?
L'amore può cambiare il mondo in un momento
Ma che ne so io?
She is the sweetest thing that I know
You should see the way she holds me when the lights go low.
Lei è la cosa più dolce che io conosca
Dovresti vedere il modo in cui mi stringe quando le luci si spengono
Every night I'll kiss you you'll say in my ear,
Oh we're in love aren't we?
Ma ogni notte ti bacerò, tu dirai al mio orecchio
Oh noi siamo innamorati, non è vero?
I feel safe when you're holding me near
Love the way that you conquer your fear
You know hearts don't break around here.
Mi sento al sicuro quando mi tieni vicino
Amo il modo con cui vinci le tue paure
Tu sai che i cuori non si spezzano da queste parti.
Someone told me, "Always say what's on your mind"
And I am only being honest with you, I
I get lonely and make mistakes from time to time.
Qualcuno mi ha detto, "Devi dire sempre ciò che ti passa nella mente"
E sono solo onesto con te, io
Mi sento solo e faccio errori di volta in volta
Take me into your lovin' arms
Kiss me under the light of a thousand stars
Place your head on my beating heart.
Prendimi tra le tue amorevoli braccia
Baciami sotto la luce di mille stelle
Posa la tua testa sul mio cuore che batte.
Some of my tattoos are a bit silly, but I know where and what time I got them.
Alcuni dei miei tatuaggi sono un po' sciocchi, ma so dove e a che ora li ho fatti.
It was my love for the guitar that first got me into music and singing.
È stato il mio amore per la chitarra che più di tutto mi ha portato verso la musica e il canto.
Success is the best revenge.
Il successo è la miglior vendetta.
Pain is only relevant if it still hurts.
Il dolore è rilevante solo se fa ancora male.
Be a true Heart, not a follower.
Sii un Vero Cuore, non un follower.
It's ok to be not ok.
E' ok non essere ok.
If love what you can't have, then you have to love what you've got.
Se ami ciò che non puoi avere, allora ama ciò che hai.
How would you feel
If I told you I loved you?
It's just something that I want to do
I'll be taking my time
Spending my life
Falling deeper in love with you
Tell me that you love me too.
Come ti sentiresti
se ti dicessi che ti ho amata?
è solo qualcosa che voglio fare
mi prenderò del tempo
per passare la mia vita
ad innamorarmi di te sempre di più
quindi dimmi che anche tu mi ami.
Ho lavorato duro per trovare il mio sound, uno stile personale, per restare fedele a me stesso e non assomigliare a nessun altro. Lo stesso vale per il mio aspetto: non ho mai cercato di essere qualcosa che non sono.
Dentro di noi c'è una piccola scintilla, e tutto sta nell'innescarla o no. Poi la fiamma va fatta crescere, bisogna curarla.
Taylor Swift dice sempre che sono saggio come un ottantenne, mi esprimo come un ragazzo di ventitrè anni e ho il senso dell'umorismo di un bambino di otto.
Molti pensano che io sia un tipo triste perché scrivo un sacco di canzoni tristi, ma tenete conto che quando si è felici non ci si chiude in una stanza d'albergo a comporre: si esce e ci si diverte. Ma per scrivere bisogna essere in una buia stanza d'albergo, ecco da dove viene la tristezza.
E' bellissimo fare un lavoro che ti permette di rendere felici gli altri.